Fit Woman Academy's Top 5 AB/Core Exercises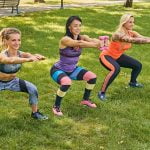 RUSSIAN TWIST WITH 5KG D/B
This is a great exercise for the obliques, it also strengthens the back, you should have good posture and alignment in the neck and spine
V SIT
I love this exercise as it hits lots of muscle groups, mainly targeting the rectus, transverse abdominals, it strengthens your back and challenges the entire core.  As the legs are raised you are also hitting the quadriceps and Hamstrings, its great for posture and flexibility.
3/4 RANGE SIT UP WITH 5 KG D/B
Great for targeting core, abs, and strengthening the back. Make sure you have good posture, a lifted chest, and squeeze your shoulder blades together, keep your chin just off your chest.
LEG RAISES
A great Transverse abdominal and hip flexor exercise. Make sure you place your hands under your Glutes, straight legs for more intensity.
PLANK USING A RESISTANCE BAND
Place the band around your ankles, hold the plank, and toe tap to each side stretching the band.  Great for the core, lower back, adductors, abductors, and shoulder stabilisation,
Come and join my girls at Fit Woman Academy.
Try Boss Baby Booty, it's an outdoor fitness class/boot camp designed to target and challenge your abs, booty and legs.
To try these ab changing exercise's SIGN UP on my offer 3 CLASSES for $15.